Why the Mom's Code?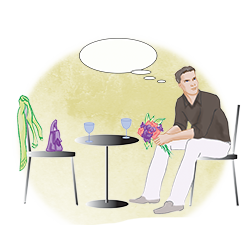 Our mate's lenses see us as women first. When I met my husband, we were both working for GE in Europe. It was a romantic time for us and we got to travel cheaply and see so many places. He remembers that person even when I forget about her. He still characterizes my personality as carefree, even as I stress and try to balance working and raising four kids. I am carefree, it just gets buried a lot. We need to use our mates as mirrors sometimes to see ourselves through their eyes. They don't always get how much we do, but many times, they have a deep appreciation of who we are.
My husband still sees me as the carefree, pretty photographer I was when he met me. That's invaluable, as I sometimes forget she exists.
– Jaime
My husband never minds if I go out and buy myself a new dress as long as it's sexy and not an "Omar the tent-maker original." Nice to still be appreciated as a woman!
– Elena